January 1, 2023
Coverage and Benefit Design
Guidelines / Policy
Effective January 1, 2023, UnitedHealthcare (UHC) is making selected continuous glucose monitoring (CGM) devices and sensors available to Medicare Advantage members at the pharmacy point-of-sale (POS). The systems affected by this change in policy include the Dexcom G6 as well as the FreeStyle Libre 2 and 14-day versions. CGMs were previously only available to UHC Medicare Advantage members through national durable medical equipment (DME) vendors. While availability through DME vendors will remain in place, the plan sought to improve access to CGMs for members by expanding to the pharmacy POS. Managed care decision makers should take note of this change in policy as an example of how national payers are leveraging the pharmacy channel as a means of enhancing coverage and member access to beneficial diabetes technologies.
Learn More
December 9, 2022
CGM Technology and Digital Health
Article / Publication
Dexcom G7 is now cleared in the U.S. for people with all Types of diabetes ages two years and older, giving more people than ever access to a powerfully simple diabetes management solution. The next-generation real-time continuous glucose monitoring system demonstrates comparable accuracy to previous versions while offering a smaller sensor and enhanced ease-of-use features.
Learn More
November 11, 2022
CGM Technology and Digital Health
Article / Publication
Lilly's new Tempo personalized diabetes management platform features a reusable medical device that attaches to prefilled, disposable insulin pens and sends dose-related data to a compatible app. Patients attach the Tempo Smart Button to the Tempo Pen to send insulin-dose information to TempoSmart. Capturing the data facilitates medication reminders, personalized education resources, and feedback on blood glucose levels, realized through integration with compatible technologies, including real-time continuous glucose monitoring (RT-CGM) via the Dexcom G6. Labeled a "diabetes ecosystem" solution, the fully integrated combination of devices, drugs, and technology offers an opportunity to adapt to each patient's unique needs in diabetes management while providing value to both physician and payer stakeholders at the same time.
Learn More
November 11, 2022
Clinical Outcomes
Guidelines / Policy
According to the 2022 American Association of Clinical Endocrinology (AACE) Clinical Practice Guideline, CGM is recommended for all persons with T1D, regardless of insulin delivery system, to improve A1C levels and to reduce the risk for hypoglycemia and DKA. The updated guideline likewise recommends CGM for those with T2D who are treated with insulin therapy, or who have high risk for hypoglycemia and/or who have hypoglycemia unawareness. These recommendations are Grade A—indicating the highest strength made by the AACE—and are supported by the best evidence level available, based on data from randomized controlled trials. Managed care and payer professionals should take note of this latest guideline as part of the growing body of consensus recommendations supporting the coverage of CGM in a broader population of members with diabetes.
Blonde L, et al. American Association of Clinical Endocrinology Clinical Practice Guideline: Developing a Diabetes Mellitus Comprehensive Care Plan-2022 Update. Endocr Pract. 2022;28(10):923-1049.
November 4, 2022
Population Health
Video
Diana Isaacs, PharmD, and the Transformation of Diabetes through Time in Range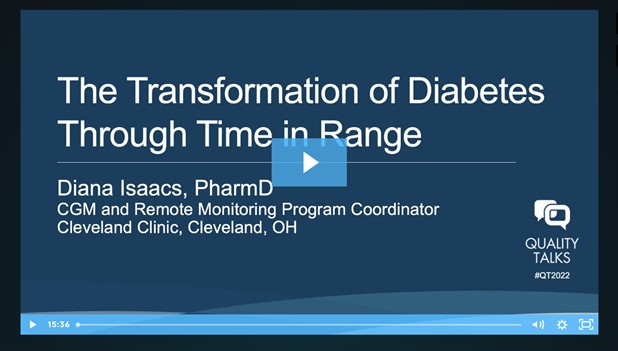 LEARN MORE
October 7, 2022
Coverage and Benefit Design
Guidelines / Policy
On October 6, 2022, CMS' DME claims processing contractors released a Proposal to modify Medicare's CGM coverage policy.
CGM coverage is proposed for individuals with diabetes taking as little as one administration of insulin per day (basal only). This differs from the current policy that requires Medicare beneficiaries to use three or more administrations of insulin per day.
CGM coverage is proposed for people who are taking no insulin, but have a diabetes diagnosis and who have a history of problematic hypoglycemia with documentation of at least one of the following:

Recurrent level 2 hypoglycemic events (glucose <54mg/dL (3.0mmol/L) that persist despite multiple (2 or more) attempts to adjust medication(s) and/or modify the diabetes treatment plan; or
A history of one level 3 hypoglycemic event (glucose <54mg/dL (3.0mmol/L) characterized by altered mental and/or physical state requiring third-party assistance for treatment of hypoglycemia

The initial visit to obtain a CGM and visits required every six months thereafter to continue on CGM can be done either in-person, or via telehealth, whereas previously they could only be in-person.
Learn More
September 11, 2022
CGM Technology and Digital Health
Article / Publication
The US Food and Drug Administration (FDA) approved the Omni Pod 5 tubeless insulin pump technology for individuals aged 2 years and older with type 1 diabetes (T1D). Omnipod 5 is the first tubeless, wearable automated insulin delivery (AID) system that integrates with the Dexcom G6 real-time continuous glucose monitoring (RT-CGM) system and a compatible smartphone to automatically adjust insulin and help protect against both hyper- and hypoglycemia.
Learn More
August 11, 2022
Coverage and Benefit Design
Guidelines / Policy
The National Committee for Quality Assurance (NCQA) is revising its Healthcare Effectiveness Data and Information Set (HEDIS) standardized measures assessing plan performance for 2023. Notably, the 2023 dataset will include a new measure related to diabetes management: the risk-adjusted ratio of observed to expected emergency department visits for hypoglycemia among older adults (aged ≥67 years) with diabetes.
This measure reflects a key component of health plan quality pertaining to the management of diabetes, since older adults are more likely to experience severe hypoglycemia, potentially leading to several adverse outcomes: fall-related events and fractures, increased risk of cardiovascular events, and cognitive decline. Similarly, prevailing clinical practice guidelines for the treatment of older adults with diabetes emphasize the prevention of hypoglycemia as an important outcome. The new HEDIS measure provides an opportunity for health plans to identify older members with diabetes who are at highest risk of hypoglycemia and implement preventive interventions and more intensive management.
Learn More