November 11, 2022
Clinical Outcomes
Article / Publication
The Wireless Innovation for Seniors with Diabetes Mellitus (WISDM) randomized clinical trial (RCT) featured a 26-week phase comparing real-time continuous glucose monitoring (RT-CGM) with blood glucose monitoring (BGM) in 203 adults aged ≥60 years with type 1 diabetes (T1D). Of the 198 participants who completed the RCT, 98% of RT-CGM group participants continued (CGM-CGM cohort) and 98% of BGM group participants crossed over to CGM (BGM-CGM cohort) for an additional 26 weeks. In the BGM-CGM cohort, median time <70 mg/dL decreased from 3.9% to 1.9% (P<0.001), TIR increased from 56% to 60% (P=0.006) and HbA1c decreased from 7.5% to 7.3% (P=0.025). Severe hypoglycemic events were reported for 9 participants while using BGM during the RCT and for only 2 participants during the extension phase with RT-CGM (P=0.02), indicating a sustained benefit of hypoglycemia avoidance in older adults out to 12 months.
Miller KM, et al. Benefit of Continuous Glucose Monitoring in Reducing Hypoglycemia Is Sustained Through 12 Months of Use Among Older Adults with Type 1 Diabetes. Diabetes Technol Ther. 2022;24(6):424-434.
Learn More
October 22, 2021
Coverage and Benefit Design
Article / Publication / CGM Best Practices

Managed Care Insights Brief

Learn More
June 23, 2021
Clinical Outcomes
Article / Publication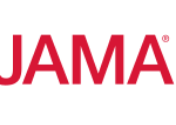 Source: The Journal of the American Medical Association
Key Takeaways: Continuous Glucose Monitoring improved outcomes more than intermittent testing of blood glucose in 41,753 patients with insulin-treated diabetes.
"Our real-world study found that in patients with insulin-treated diabetes, initiating a continuous glucose monitor substantially improved blood glucose control and cut the rate of emergency room visits for hypoglycemia in half."1

Andrew J. Karter, PhD, Senior Research Scientist at Kaiser Permanente Division of Research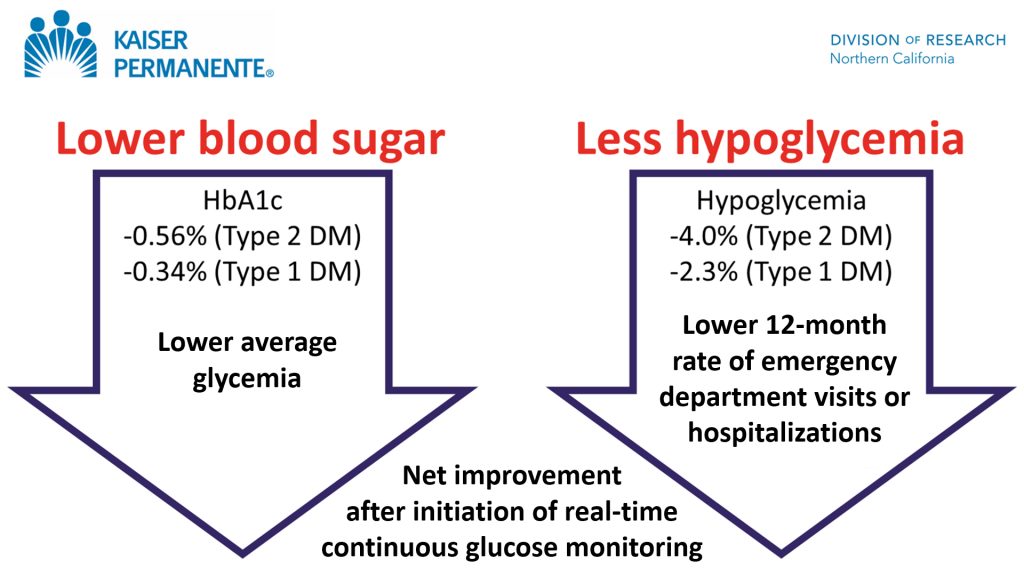 1Shaffer R. Real-time CGM lowers HbA1c, reduces ED visits in insulin-treated diabetes. Endocrine Today. June 2021. https://www.healio.com/news/endocrinology/20210607/realtime-cgm-lowers-hba1c-reduces-ed-visits-in-insulintreated-diabetes. Accessed June 24, 2021.
Learn More
June 22, 2021
Clinical Outcomes
Coverage and Benefit Design
Article / Publication
Source: The Journal of the American Medical Association
Authors: Monica E. Peek, MD, MPH, MS; Celeste C. Thomas, MD, MS
"…the studies by Karter et al. and Martens et al. provide additional evidence that patients with type 2 diabetes benefit from the use of CGM in terms of improved HbA1c level, time spent in the target blood glucose range, and reduced hypoglycemic episodes…"
"…institutional changes that promote its use in primary care will go a long way to improving diabetes control and reducing complications, particularly among the populations most in need. The time has come to broaden access to CGM for patients with type 2 diabetes."
Learn More
June 21, 2021
Clinical Outcomes
Article / Publication
Source: The Journal of the American Medical Association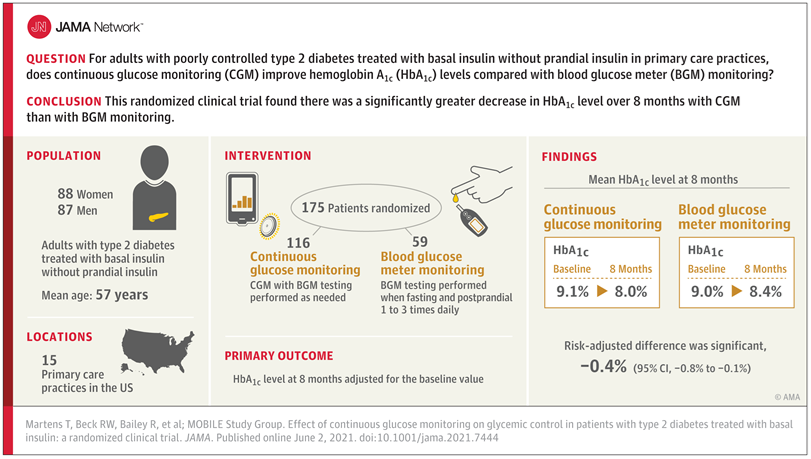 Learn More